MADE IN GERMANY

ARMOURED VEHICLES BY STOOF – UNCOMPROMISING SAFETY
STOOF International GmbH can look back on 150 years of experience in the armoured vehicles segment. The armoured vehicles presented in our portfolio include upgraded basic configurations from leading brand manufacturers. These include Toyota, Range Rover, Mercedes Benz, Volkswagen, Bentley, Cadillac, Chevrolet, Hyundai, Ford and MAN, with all of whom we enjoy close collaboration as a partner.
Quality products to begin with, their vehicles are enhanced at STOOF with custom safety concepts. We know no compromise where occupant safety is concerned. We realise your wishes just as you want them.
Our production, development and distribution are the fruits of an experienced team made up of over 150 members. Our personnel is your guarantee for the design and production of the safest armoured vehicle you can have. Just outside of Berlin, the STOOF plant in Borkheide ranks among the top addresses for international customers seeking the perfect armoured vehicle. We supply national governments, international authorities and organisations in Europe and beyond, as well as security firms and private individuals with special security requirements. Our customers can be confident at all times of our utmost discretion and diligence when purchasing our armoured vehicles. The safety of our vehicles is checked by independent testing bodies such as proof houses in accordance with military and civilian standards.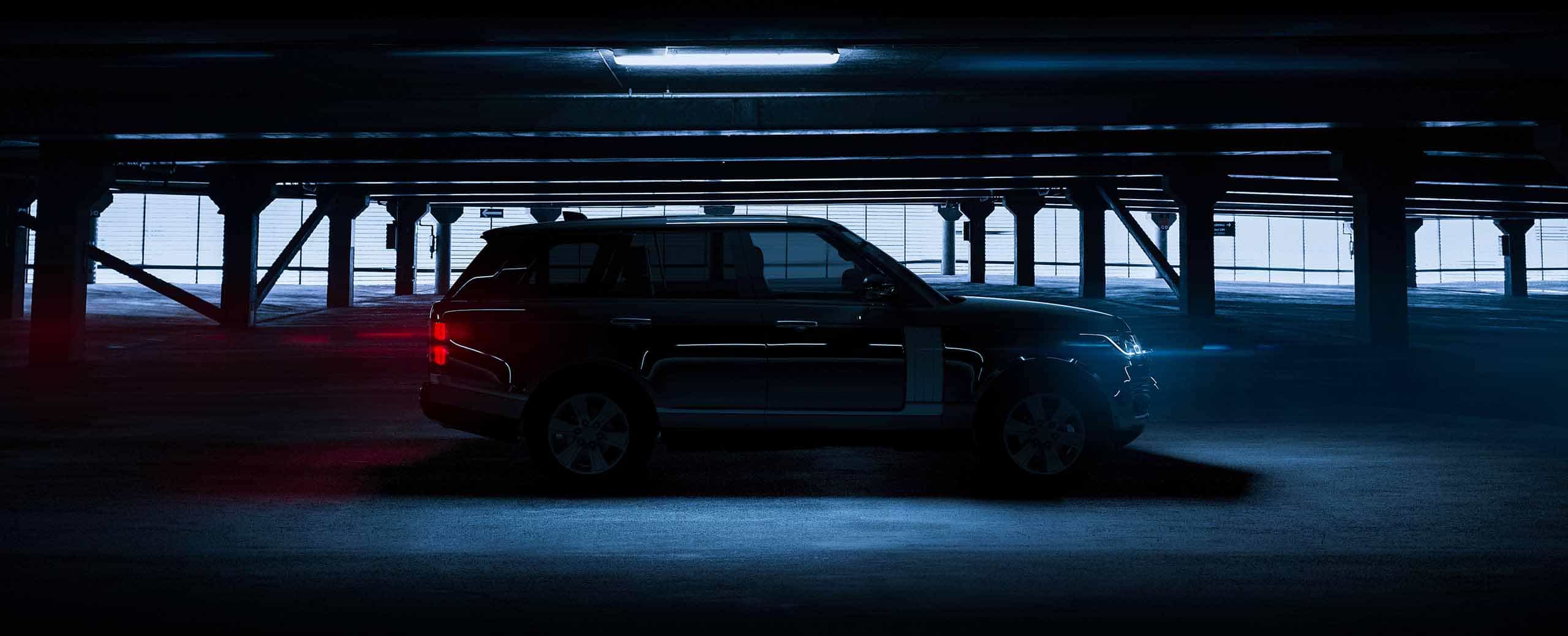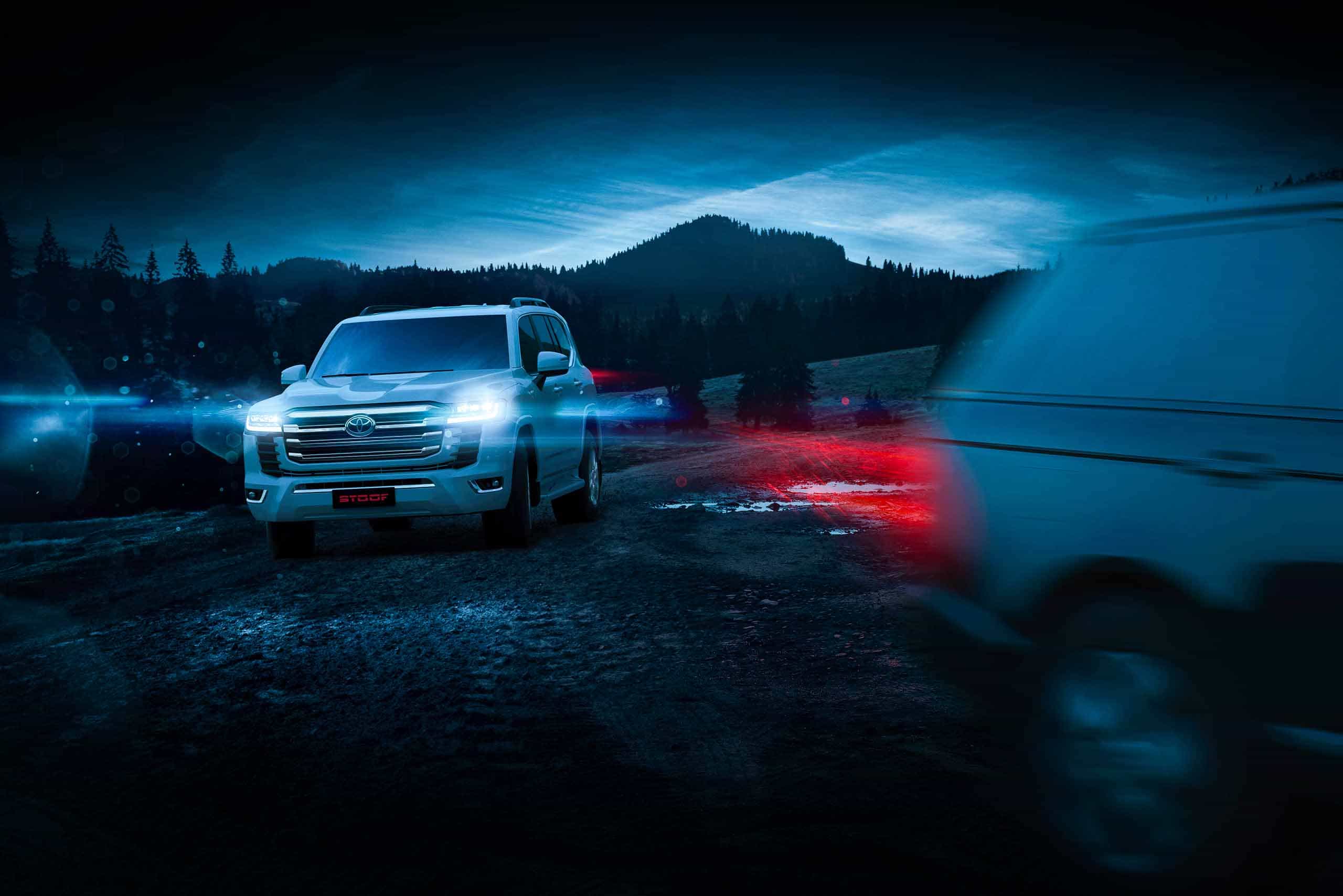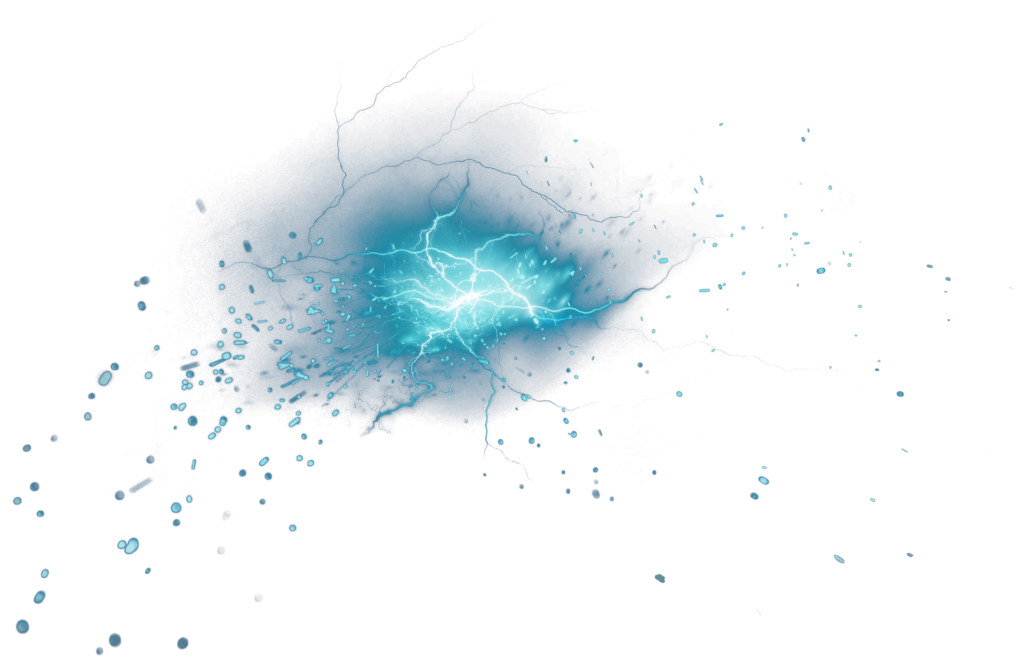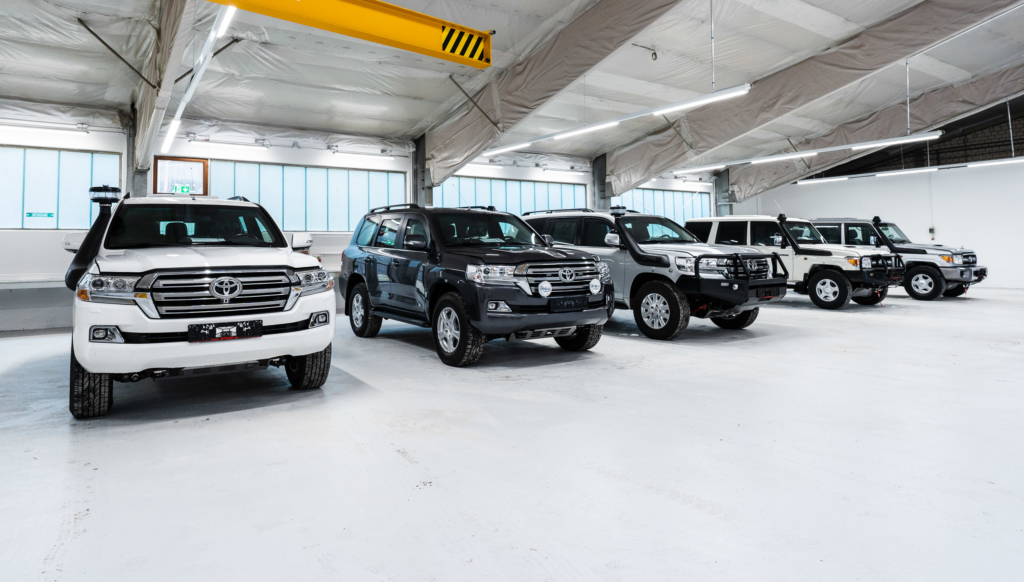 Armoured Cars:
What Types of armoured vehicles does stoof provide?
STOOF International GmbH of the Brandenburg municipality Borkheide manufactures armoured vehicles for all purposes. Our product portfolio includes armoured all-terrain vehicles, armoured limousines, armoured trucks for cash and valuables transportation and armoured HGVs. All of our vehicles and safety cells are offered and sold exclusively by our own sales organisation. STOOF is thus in a position to safeguard the highest level of confidentiality and expertise – from the initial contact, production and training to delivery to any location in the world.
Covering over 27,000 square metres, our plant premises in the Potsdam-Mittelmark district provide the optimal environment for developing and manufacturing high-quality armoured vehicles. We operate modern production facilities, including the latest laser technology. These are joined by our own paintshop and saddlery and a test track for our vehicles. Of course, we invest in sustainability and use solar power which we generate ourselves.
Backed by this technology, STOOF can offer custom solutions over the whole range of safety vehicles. Critical and special safety projects are handled in a physically separate hall area. These can be accessed by specially vetted personnel only.
The STOOF brand meets even the highest demands to the full extent. STOOF stands for uncompromising safety and discretion!
WHAT ARE THE SAFETY FEATURES PROVIDED BY STOOF ARMOURED VEHICLES?
STOOF International GmbH divides its portfolio into three main categories: armoured all-terrain vehicles, armoured trucks for cash and valuables transportation and armoured limousines. In addition, as a leading manufacturer of safety vehicles, STOOF also produces further system solutions. These include APCs (armoured personnel carriers), LUVs (military light utility vehicles), police vehicles and safety containers.
Depending on their intended purpose, our armoured vehicles differ in their safety features. In addition to the special reinforcements, the basic configuration of our armoured limousines also includes an armoured fuel tank, a run-flat system, a reinforced undercarriage and extra-strength door arrests. Just as you wish, we can fit your armoured limousine with a number of extras: There are many individual options to choose from, from NBC protection to underbonnet fire extinguishers.
Armoured all-terrain vehicles, armoured trucks for cash and valuables transportation and armoured HGVs can also be fitted with a great many sophisticated safety systems, just as you wish. Our additions to vehicles include antiballistic tyres, run-flat system, surveillance cameras, special armour-plated glass and transponder-actuated doors.
At STOOF in Borkheide, we reinforce your vehicle to meet every protection category. We'll also be pleased to assist you in configuring the equipment for your armoured vehicle.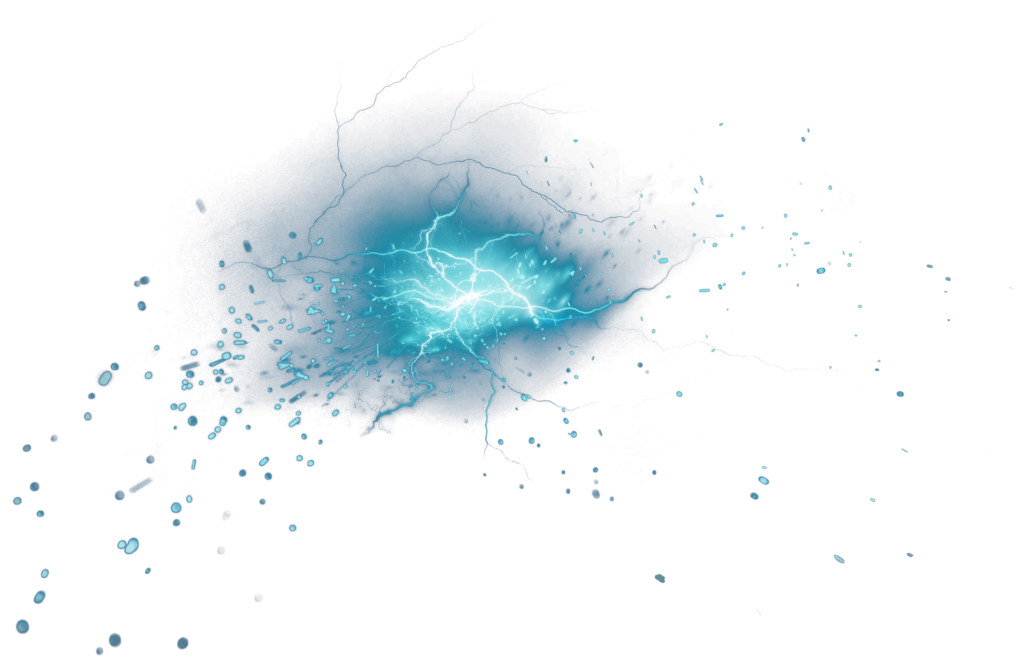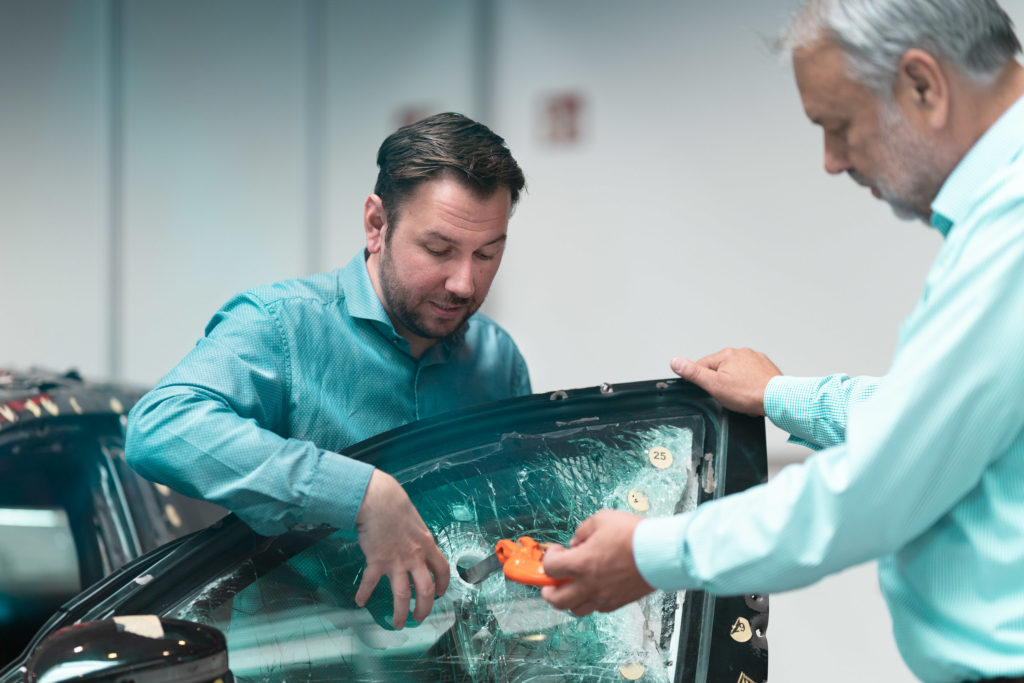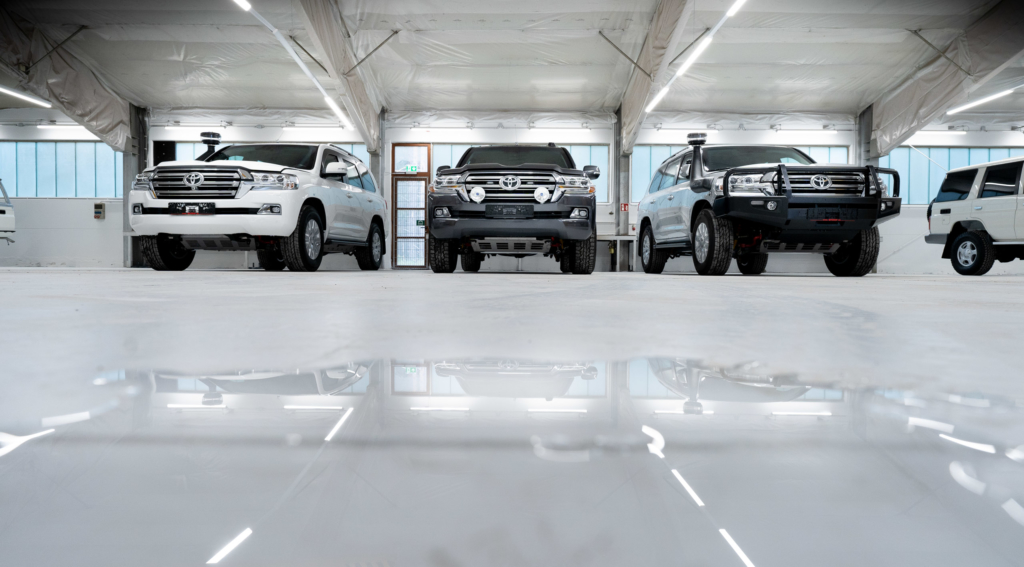 CAN I BUY AND HIRE SAFETY VEHICLES FROM STOOF?
STOOF International GmbH is a global player and ships its safety vehicles to many countries. Basically, though, we manufacture armoured vehicles to our customers' specifications. STOOF therefore offers you an extensive portfolio of basic vehicles for any configuration as an armoured model.
Our motor pool also includes preconfigured vehicles that you can hire for short-term deployment. Feel free to contact us when you wish to hire an armoured vehicle. We'll be pleased to make you a personal offer.
Armoured Vehicle von STOOF –
custom-fitted for safety and luxuriously appointed
Supported by a highly experienced and dedicated team, STOOF International GmbH has gained a reputation as the world leader in safety engineering over the decades. As the market leader we fit your vehicle purchased from us to your own specifications, delivering a level of quality that meets even exclusive demands. Many extras are also available, just as you wish.
You want to brand your armoured vehicle with your own logo or coat of arms? You are considering an integrated workplace with PC and fold-out desktop? Or would you like accessories like a refrigerator compartment, a minibar, or high-quality leather upholstery? Do you require special security-relevant equipment such as radio systems, active safety systems to avert booby traps, satellite communication (and data communication) or camera systems for driving (including at night)? STOOF International GmbH fulfils even very special customer wishes with enthusiasm and expertise!