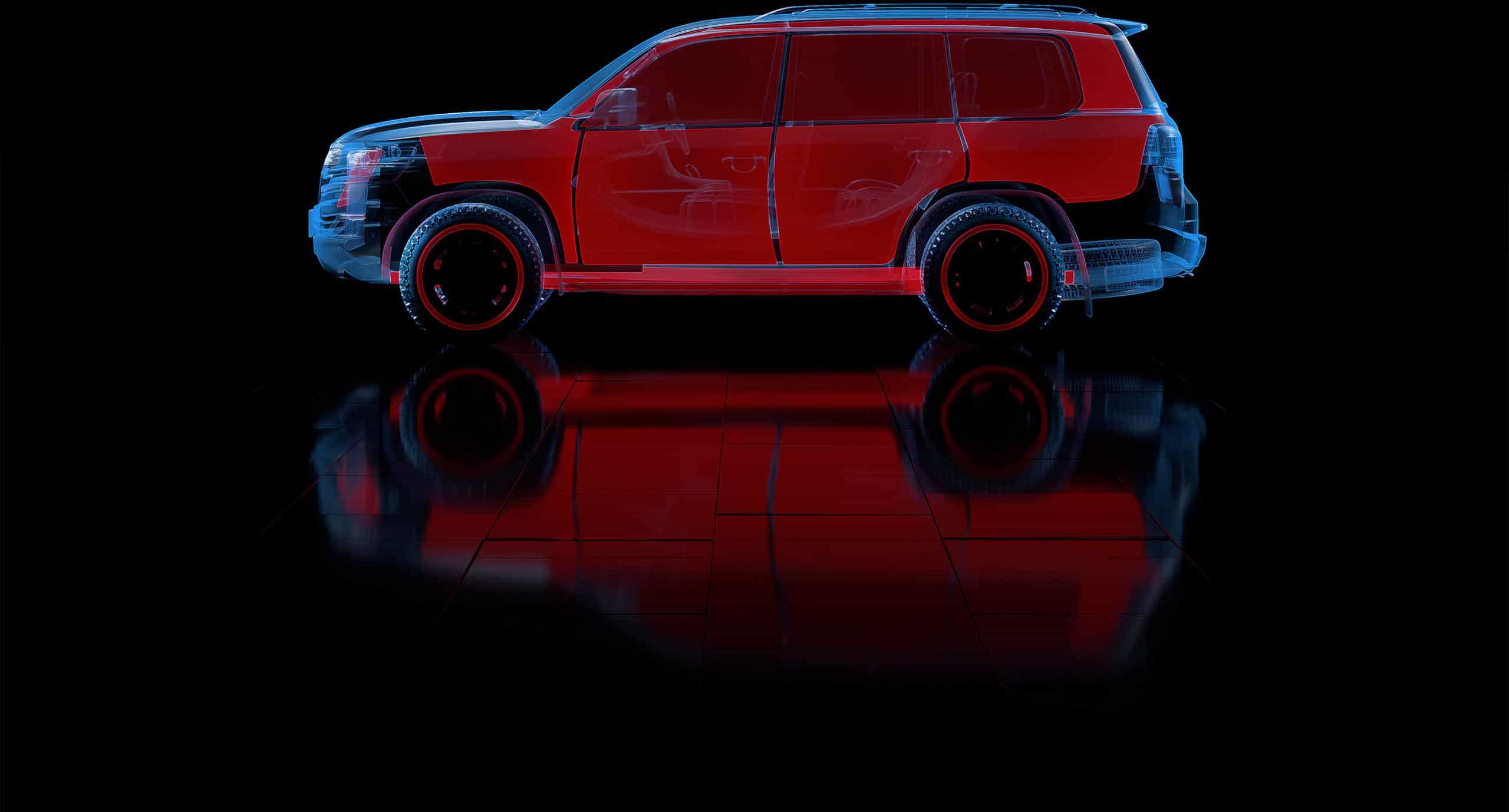 The stoof
Safety concept
Antiballistic armour with Ballistics Rating
VR7 and VR9
VPAM BRV 2009 and ERV 2010 certification
Alarm system
Offset exhaust vent
Run-flat system
Battery master switch
2× battery armour
Fire extinguishing system
Intercom system
Armoured side panels in engine compartment
Armoured fuel tank
Armoured central electrical system
Master switch for interior and exterior lighting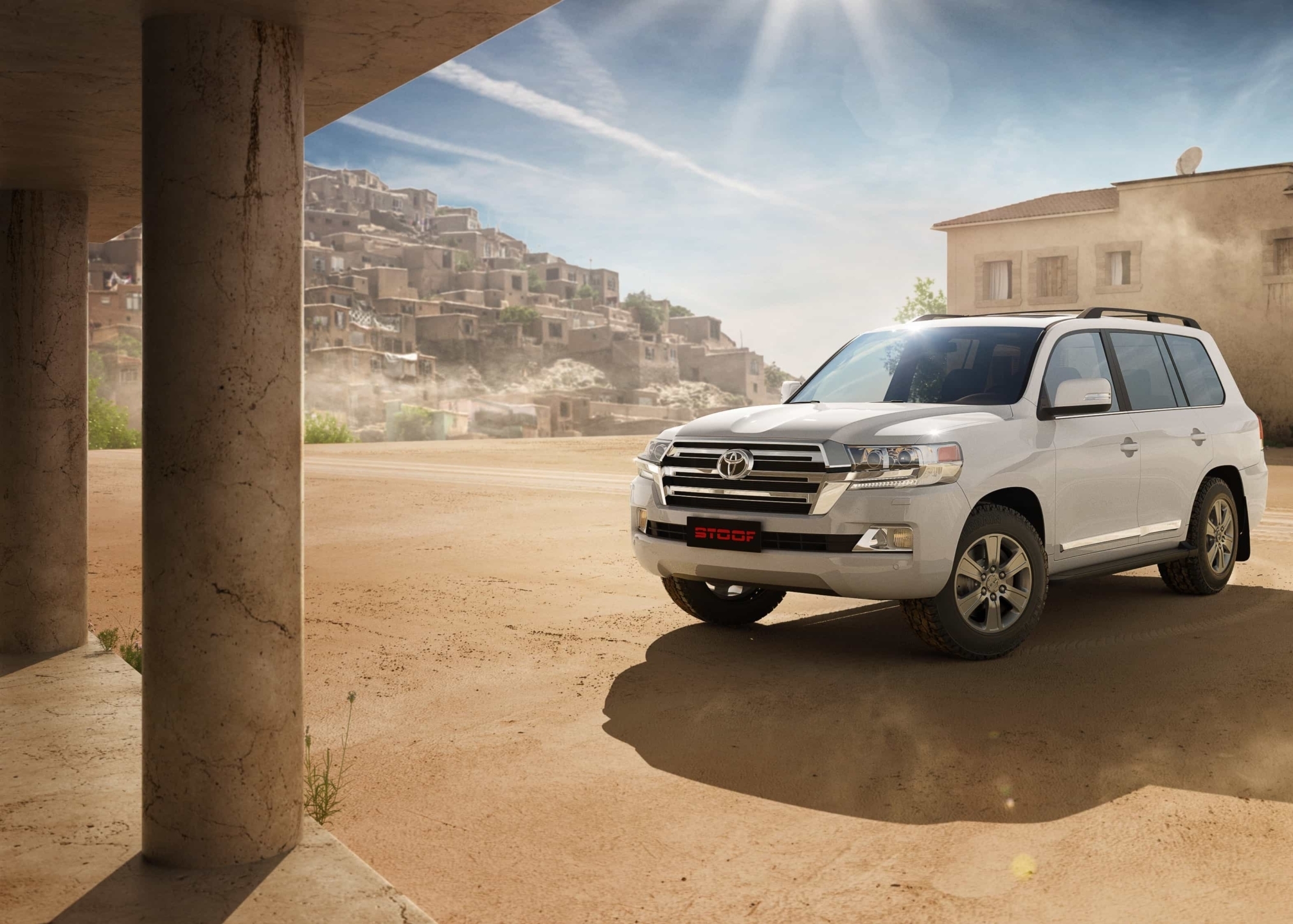 THE ARMOURED TOYOTA LAND CRUISER 200 BY STOOF – SAFE, RELIABLE, AND CHARISMATIC
The Toyota Land Cruiser ranks among the all-terrain vehicles in hottest demand. Since the fifties, this vehicle has been living up to its reputation as a sturdy all-round talent. This comes as no surprise when the vehicle brings its particular strengths to bear on roadless terrains. The Toyota Land Cruiser is therefore the ideal transport for deployments in crisis regions or for humanitarian missions in nations with underdeveloped infrastructure.
These characteristics have made the Toyota Land Cruiser extremely popular for seventy years. In 2012, after developing its all-terrain vehicle J20, Japanese carmaker Toyota confirmed yet again that the Land Cruiser was still a permanent feature on the offroader market.
THE TOYOTA LAND CRUISER 200 AS AN ARMOURED VEHICLE
Following encouraging success with modifications to the Series 100 Land Cruisers, the engineers at STOOF International GmbH in Borkheide developed an armoured version of this all-terrain vehicle, the Toyota Land Cruiser TROJAN©. Here, the improved Series 200 Toyota provided the ideal platform for a reliable, universal armoured vehicle. Governments, international organisations, corporations and private individuals all around the world place their trust in these armoured all-terrain vehicles by STOOF.
All the less surprising when even the basic version of this sturdy, spacious vehicle presents some appreciable safety features. STOOF equipment for your Toyota Land Cruiser 200 includes
antiballistic tyres (TÜV/MOT-certified),
armoured side panels in the engine compartment,
a second battery,
an alarm system,
reinforced door hinges, and
an intercom system.
Even without the extra defensive equipment, the armoured all-terrain vehicle Toyota Cruiser (also known as the Land Cruiser V8 or Land Cruiser 200 in some countries) cuts a fine figure. Over the years, its four-wheel drive, its capacious interior and its ability to cross deep water (up to 70 cm) have launched the Toyota Land Cruiser 200 to a highly prominent position. And as a STOOF armoured all-terrain vehicle, this Toyota leaves all doubters far behind.
Interested in an armoured Toyota Land Cruiser 200? This STOOF vehicle comes in a range of armour and equipment configurations. Custom equipment can be compiled from our wide range of additional safety and de luxe options. Our service team can provide you with all the information you need.
Specs

Length:
4.950 mm
Height:
1.905 mm
Width:
1.980 mm Wheelbase (long):
2.855 mm
Axle ground clearance:
230 mm
features
VR7 and VR9 certification
Certificate for resistance to shock equivalent to 15 kg TNT
The armour materials like steel, aramid, and glass have been tested for their antiballistic properties by independent authorities (German National Firing Proof House)
Standard armour without partitions and inner doors
Specially developed undercarriage safeguards road reliability and safety
Inconspicuous appearance
The original vehicle retains its outward look despite armouring
Basic vehicle is specifically selected for the deployment region
On-board base for communications and ECM systems
Interior equipment complete with high quality and durable grey, black, or beige upholstery
Servicing support from the world's best service network