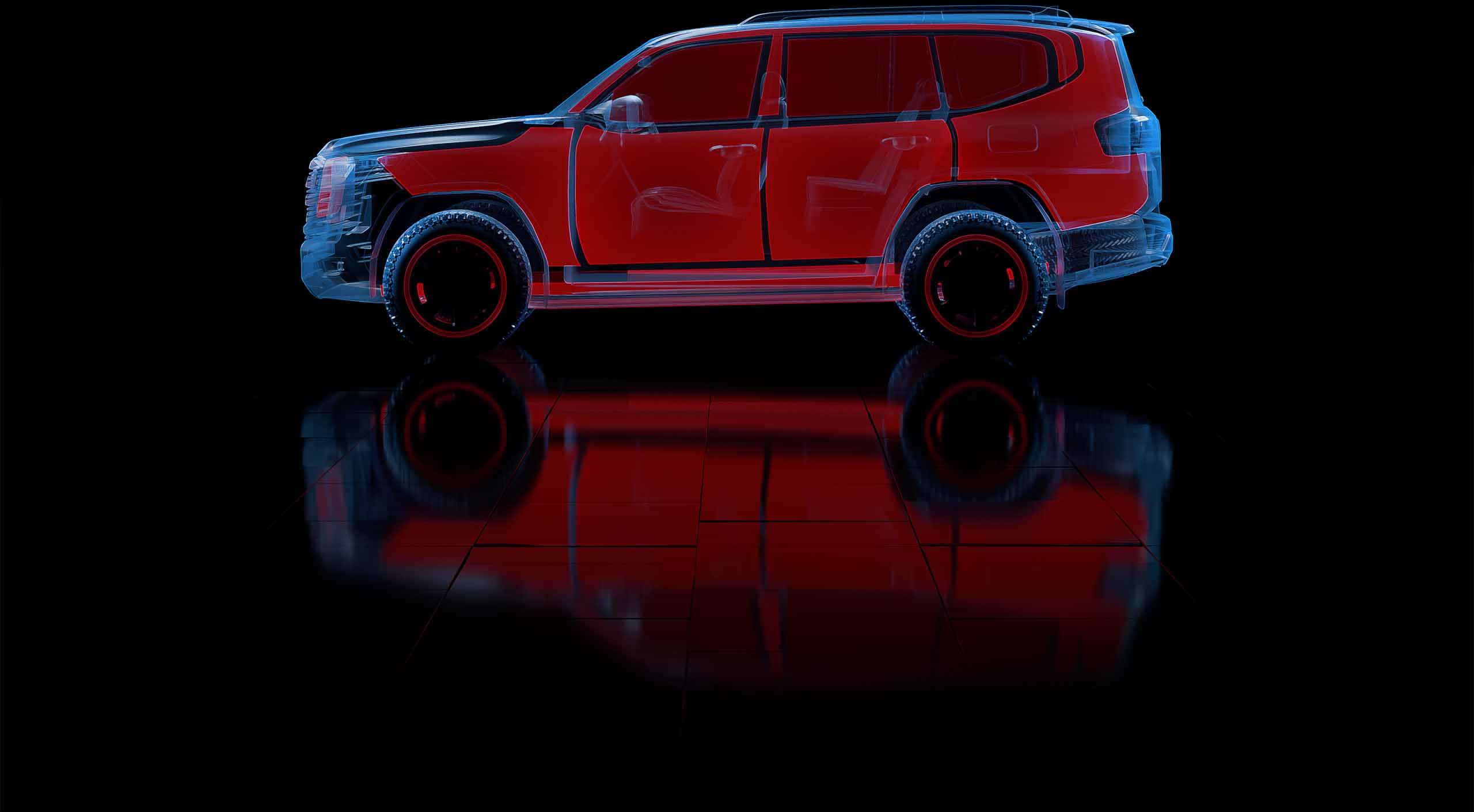 The stoof
Safety concept
Antiballistic armour
VR9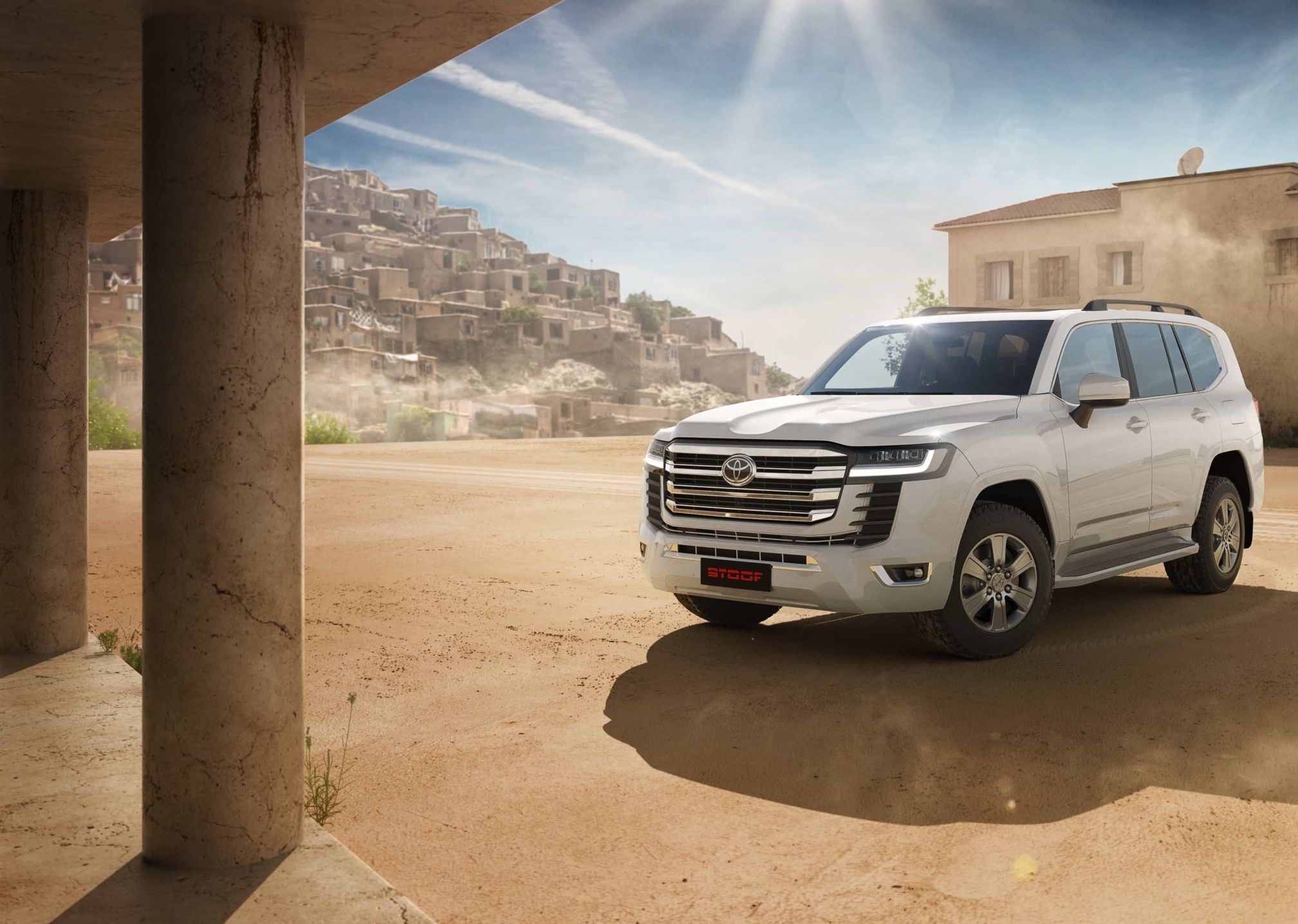 THE TOYOTA LAND CRUISER 300 AS AN ARMOURED VEHICLE – SAFETY MEETS PROGRESS
Toyota has designed a distinct, reliable all-terrain vehicle in the form of its Land Cruiser. In 1951, when the first Land Cruiser BJ first saw the light of day, nobody could foresee that Toyota would sell a good ten million units by the year 2021.
Yet it should come as no surprise that the Toyota Land Cruiser ranks among the most popular all-terrain vehicles worldwide. This powerful all-round talent is the perfect transport for roadless terrain. And even crossing water does not pose a serious obstacle.
Over the course of the years, the Toyota Land Cruiser has undergone an impressive evolution – from the Land Cruiser 20 and 40 to the later Series 150 and 200. And this Japanese carmaker is now continuing the success story with its Toyota Land Cruiser 300. Also this new model is seen to be the ideal vehicle for diplomats, government agencies and international organisations in particularly challenging deployment areas. The Land Cruiser proves the optimal choice even in crisis areas and for humanitarian missions. This is all the more true when the vehicle has been fitted with armour equipment by STOOF International GmbH.
THE TOYOTA LAND CRUISER 300 AS AN ARMOURED VEHICLE – THE EVOLUTION OF SAFETY
The armoured Toyota Land Cruiser has long been part of the STOOF portfolio. Our designers had already earned an excellent reputation after converting the Series 100 and gained worldwide renown with the armoured Land Cruiser 200. The world's most successful armoured variant of this all-terrain vehicle is the STOOF Toyota Land Cruiser TROJAN®.
And now this success story is being continued with the Toyota Land Cruiser 300. This vehicle combines safety, reliability and comfort in line with the 21st century. The safety equipment of our Land Cruiser 300 can be customised to quite exacting specifications.
Besides these safety options, STOOF International GmbH can also offer you a wide range of luxurious accessories. Would you like your Toyota Land Cruiser 300 to have a refrigerator compartment, leather upholstery, or your own coat of arms or logo? Contact us!
At STOOF, you can get your Land Cruiser 300 in a range of armour configurations starting in late 2022.
Specs

Length:
4.965 mm
Height:
1.905 mm
Width:
1.980 mm Wheelbase (long):
2.850 mm
Axle ground clearance:
235 mm
Features
B6 or B7 armour option
Currently in the VR7/VR9 certification stages
The armour materials like steel, aramid, and glass have been tested for their antiballistic properties by independent authorities (German National Firing Proof House)
Standard armour without partitions and inner doors
Specially developed undercarriage safeguards road reliability and safety
Inconspicuous appearance
The original vehicle retains its outward look despite armouring
Basic vehicle is specifically selected for the deployment region
On-board base for communications and ECM systems
Interior equipment complete with high quality and durable grey, black, or beige upholstery
Servicing support from the world's best service network