150 YEARS OF OUTSTANDING SAFETY AND FIRST-CLASS PROTECTION
We can sum up our mission in just a few words: to provide the greatest possible safety for our customers! STOOF International GmbH has been committed to this principle since Karl August Stoof founded the company in 1865. Over the decades, the reliable and robust carriages of yesteryear have become vehicles with uncompromising protection that meet safety standards worldwide and enjoy the highest level of customer trust among security firms, government authorities and private individuals.
Today, at our Borkheide site just outside Berlin, we produce safety cells and armoured vehicles of all categories, with outstanding quality and for nearly all areas of application. Every day, the highly specialised experts in our high-performance development department work to devise product solutions at the highest safety level. Of course, their work is 100% confidential. Whether it's a limousine for a private individual, a lorry for a forwarding company or a special military or police vehicle: "Made in Germany" is always the foundation for our day-to-day work. We couldn't imagine it any other way.
Armoured SUV
Sport utility vehicles (SUVs) are in high demand in the general vehicle market and are becoming increasingly popular. SUVs are also in ever greater demand and use as armoured vehicles. STOOF International GmbH recognised this trend many years ago and has very successfully expanded its portfolio to include this segment.
Today, STOOF is Germany's market leader and one of the leading companies worldwide in the manufacture of armoured vehicles. We offer SUVs from many well-known manufacturers, whose basic vehicles we convert and upgrade in line with the highest international safety and quality standards at our Borkheide site in Brandenburg.
In addition to complying with these standards, we also consistently fulfil the customisation requests of our customers. We offer our customers a wide range of additional equipment, including deluxe variants. Our experienced sales and service staff look forward to advising you in person.
Yet there is more: we'll be pleased to customise your armoured all-terrain limousine in accordance with your own special wishes. STOOF International GmbH offers you a wide range of additional safety and deluxe equipment for this purpose, which we will install in the armoured SUV at your request.
Our range of armoured SUVs is also extensive in terms of the brands and models we offer: We sell armoured all-terrain vehicles such as the Toyota Land Cruiser 200 and Toyota Land Cruiser 300, as well as the Land Rover Range Rover Vogue as a reliable armoured vehicle. We also offer armoured all-terrain vehicles based on other manufacturers. The Toyota Hilux is available from STOOF as an armoured all-terrain vehicle with a loading area. Our trained staff will be pleased to advise you on other vehicles that we, with our in-depth know-how and experience, can convert into armoured SUVs.
Cash in Transit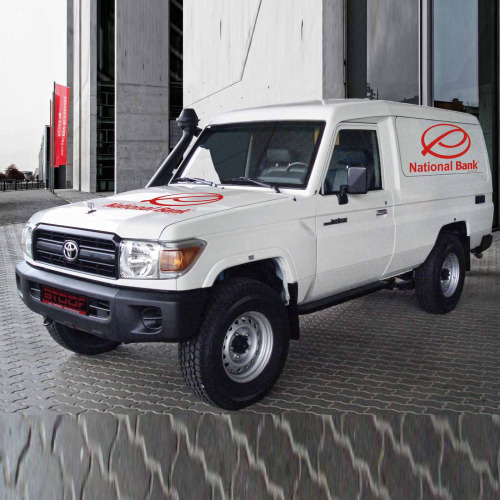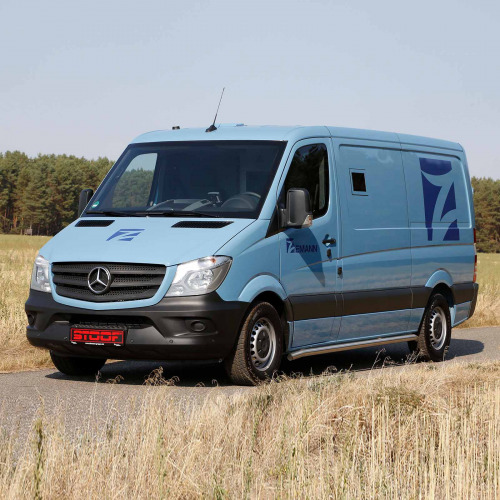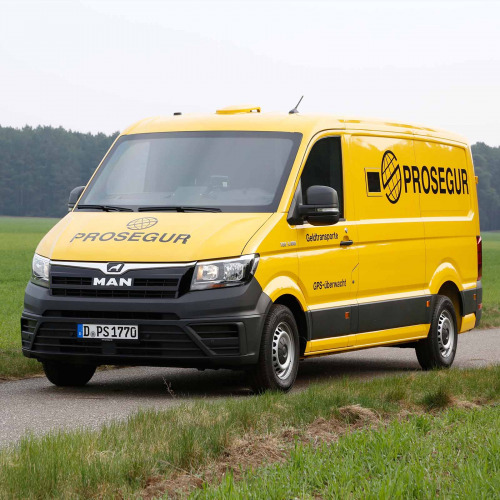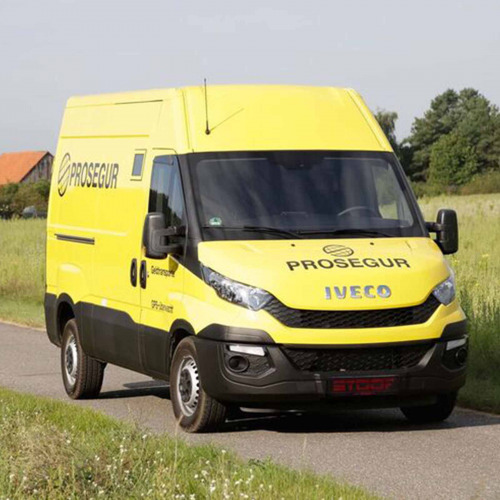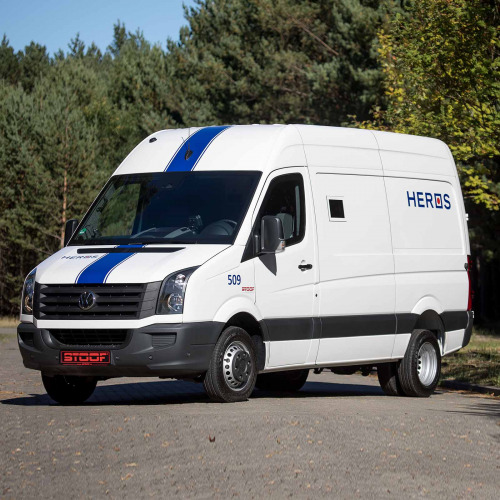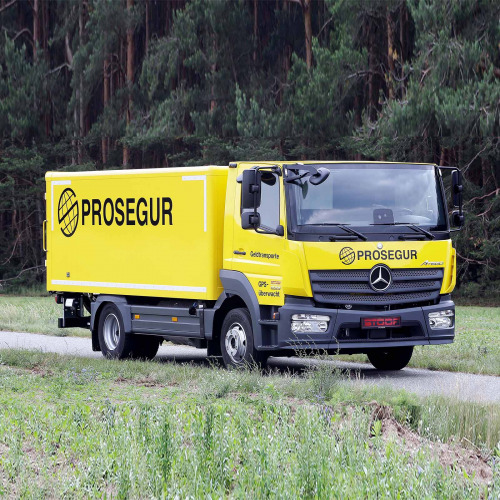 Vehicles for transporting cash and valuables are used wherever mobile assets need to be taken from A to B. These might be, for example, a jeweller's new autumn collection, works of art exhibited in galleries or museums and, of course, cash that needs to be transferred from retail outlets to the bank.
STOOF's armoured cars of this size for transporting cash and valuables represent a perfect combination of generous loading volume, suitability for everyday use and smooth handling in urban traffic and, of course, comply with the highest international safety and quality standards.
For many years now, private service providers and public bodies alike have relied on the expertise of STOOF International GmbH to transport their assets safely, conveniently and quickly. Our customers can choose from a wide range of models from different manufacturers and precisely adapt the vehicle to their individual needs.
The fact that we at STOOF always have the future in mind and are looking for innovations is demonstrated by the latest addition to our model range: a fully electric cash-in-transit vehicle based on the MAN E-TGE. Transport your assets in a sustainable and climate-friendly way without having to compromise. Neither with the powerful drive system with 136 hp nor with the generous loading space volume of over 10 m³. And certainly not with our core competencies: protection and safety.
Like all our cash-in-transit vehicles, the MAN E-TGE is equipped in accordance with the accident prevention regulations (UVV) for cash transportation vehicles.
Does that sound good to you? Does it sound like protection and performance? Or are you in doubt as to whether the performance of an e-transporter is sufficient for your safety and security? We'll be happy to reassure you there – in a talk with one of our trained staff members. Get in touch with us.
Armoured HGVs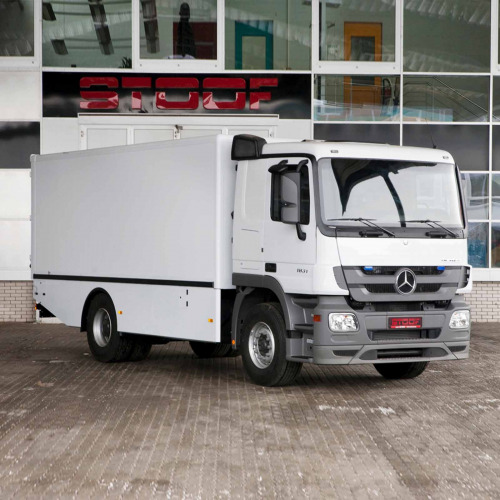 Armoured HGVs are used wherever heavy (or many) goods need to be moved in a protected manner, wherever conditions are particularly rough or wherever extreme environmental conditions prevail. A distinction should be made here as to whether the passenger compartment alone needs securing (for the delivery of relief supplies to crisis regions, for example) or whether the cargo itself requires exceptional protection.
In both cases, STOOF International GmbH is the first point of contact for customers looking for an armoured HGV. From the "small" 3.5 ton lorry suitable for city traffic to the all-terrain tractor for heavy transport, we offer a wide range of different brands and models to our customers from the private, public and military sectors.
Our HGVs are individually adapted to our customers' requirements in our factory just outside Berlin, well away from the eyes of outsiders. Of course, we offer a wide range of special protection features that meet the highest international safety and quality standards, and can implement almost any customer request.
Are you planning something big and need the right armoured vehicle to do the job? Do not hesitate to contact our competent team. We will put your ideas, requirements and specifications on the road. Get in touch with us.
SWAT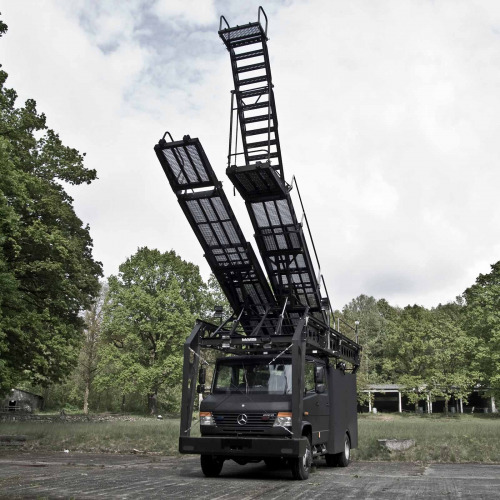 Personnel carriers, armoured rescue vehicles, mobile operations centres – anywhere police officers, paramedics or mountain rescuers are called into action, SWAT vehicles are not far away. They ensure maximum protection for the emergency forces on site, safeguarding them against unauthorised access and external influences such as falling rocks, explosions or shelling.
Generally speaking, all categories of vehicle (e.g., SUVs, all-terrain vehicles or vans) can be upgraded to SWAT vehicles and equipped with the appropriate special protection. In our production facilities at the Borkheide site, vehicles for highly specialised purposes are produced in close consultation with the respective client. These special purpose vehicles are tailored precisely to the requirements of police, rescue services and security firms.
We attach great importance to our clients' safety and security, starting with the production process, which is why special purpose vehicles are discreetly upgraded as needed in a separate production area to which only selected employees have access.
Speak to one of our competent staff members and draw on our decades of expertise in armoured SWAT vehicles.
LIMOUSINES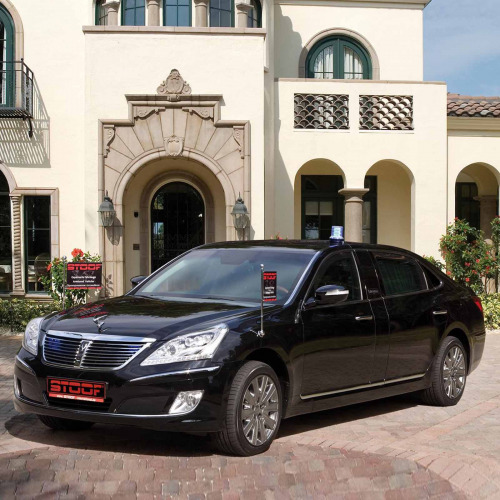 Protect your most valuable asset: your life. And don't settle for compromises! If you wish to travel at the highest level of comfort and safety, the armoured limousines by STOOF International GmbH are your first choice. For decades now, our Borkheide factory has produced armoured luxury vehicles of the very highest quality. They offer high performance, exclusive workmanship and a design thought through to the last detail, all perfectly tailored to your requirements.
For the basic configuration, you can choose between the Mercedes-Benz S-Class and the limousines of other manufacturers such as Bentley – we will upgrade and secure almost any vehicle. Whatever you decide, you can move discreetly from A to B in any of our armoured vehicles because the special protection features are not recognisable as such from the outside. This ensures additional safety. Safety features like an armoured fuel tank, reinforced door hinges and penetration-resistant glazing obviously do not mean that you have to compromise on the interior equipment.
Contact our trained staff and plan a vehicle that is customised according to your requirements. From underbonnet fire extinguishers to design highlights such as incorporating your own logo or coat of arms, our specialists can implement virtually any customer request. A customised passenger compartment? Or additional safety extras? No problem.
Indulge in the great feeling of being optimally protected on every journey and enjoy the comfort of STOOF International's armoured limousines. This way you'll have a clear mind for the really important things on the road.
Does that sound good to you? Does it sound like protection at the highest level? Get in touch with us.
Special purpose Vehicles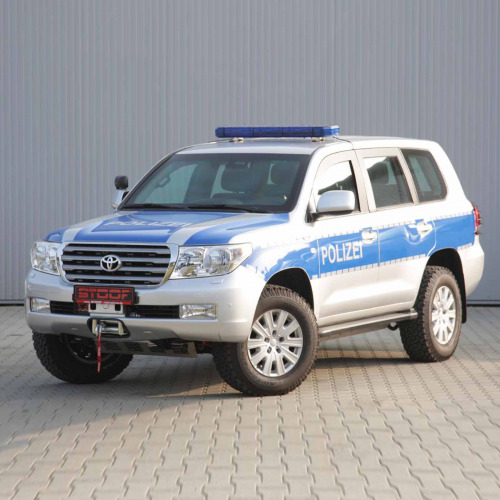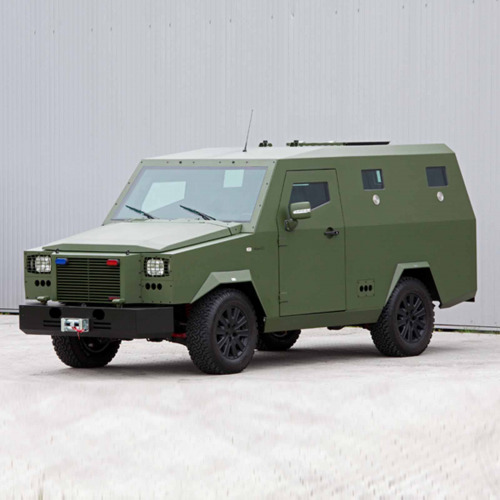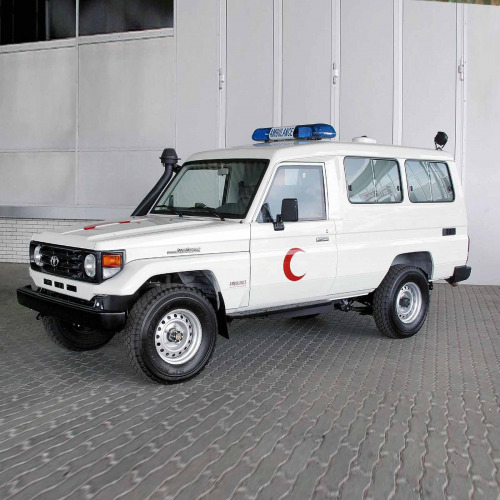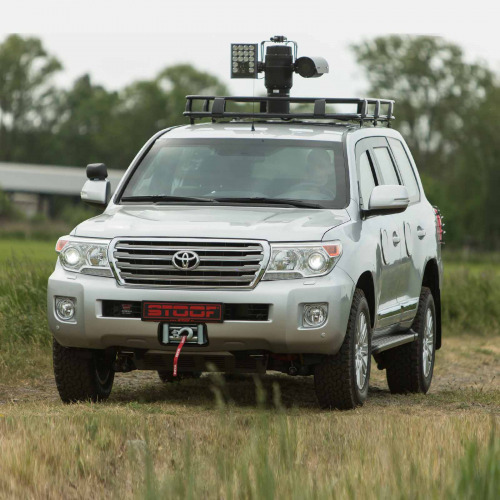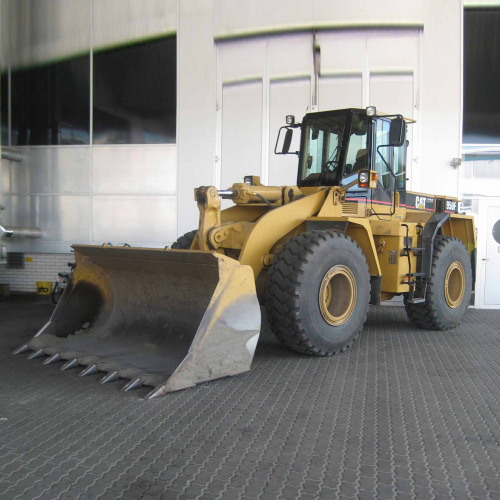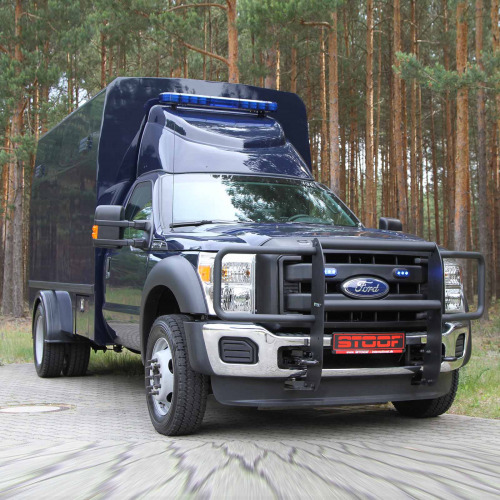 When the going gets tough, highly specialised forces need highly specialised vehicles they can rely on in an emergency, with power reserves that are always on hand and special protection equipment that can be relied on 100% – no matter what.
These special purpose vehicles have a wide range of possible applications. Vehicles upgraded by STOOF International GmbH are used, for example, as prisoner transport vehicles based on the Ford F150. The long version of the Mercedes Sprinter is used as a personnel carrier, while other models are used as aerial trucks by the special task forces (SEK) of the German police.
As different as the individual vehicle models are, what they all have in common are custom-fitted configuration, workmanship of the highest quality and, of course, protective equipment that remains effective in and withstands even the toughest conditions.
Tell us which area of application you need a special vehicle for and what requirements it must meet. You can rest safe in the knowledge that we will find the optimal solution for you.